Need a better supplier of product identification and permanent marking solutions?
Call North American Marking Solutions Inc.
---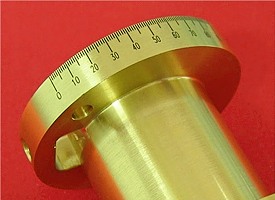 Expect permanent, high resolution markings on a wide variety of metals, including brass.
Try our in-house laser marking services just once and we are confident you will be impressed by the quality and accuracy of our equipment, which includes CO2, Yag and Fiber laser systems. We can even offer you a no-obligation free sample marking of a few of your production parts just to show you our capabilities.
We know what you need: permanent and high resolution markings of a logo, part number/batch, identification number, ID matrix mark or OCR readable characters. And we can mark almost any material, ranging from metals (stainless steel, aluminum, copper) to plastics.
Most important, you can trust us to do the job right the first time because we are an industry leader with an 18 year track record and long list of blue chip clients, including GM, Ford Automotive, Magna, Colgate Palmolive. We are also the trusted supplier of countless small and medium businesses in Canada and the United States who appreciate that they get the same service as our larger accounts.
Trusted suppliers of laser services and support
With 18 years of laser equipment experience, including installation and integration within a wide variety of production environments, we can not only help you choose the right laser marking solution for your specific application, but also explain how that solution will help your company save money by reducing overhead, cycle time, down time and consumable costs.
Ask about our highly economical laser marking service
If you need laser marking, but are not ready to invest in a laser system please, ask about our laser marking service. It's the smart choice if you want quality marking at a very low cost per part, plus quick turn-around times.
In-house product marking solutions or out source the job to us
If you require the ability to perform your own production identification in-house, we can supply Electrolytic Etching or Needle Stylus marking units, and we will soon offer CO2, YAG and Fiber Laser systems. We will also offer the same services for companies that want to outsource their product marking needs, and we are the only official replacement vendor for North American Laser Systems Inc.
Why settle for less? Call us today for a free estimate and introductory consultation on your product marking needs.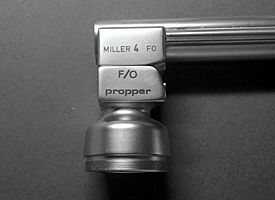 Electrolytic etching of production part, dark.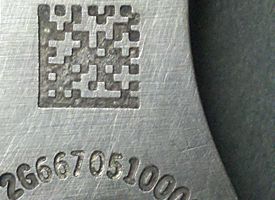 Electrolytic etching ID matrix, dark.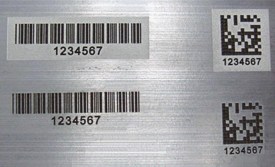 Barcode & ID Matrix on aluminum produced
with laser engraving.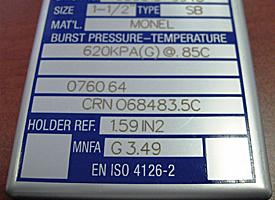 Stainless steel tag marked by laser engraver machine for product identification.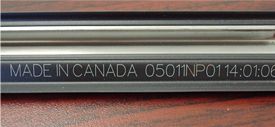 Rubber trim with permanent,

high resolution laser engraving.